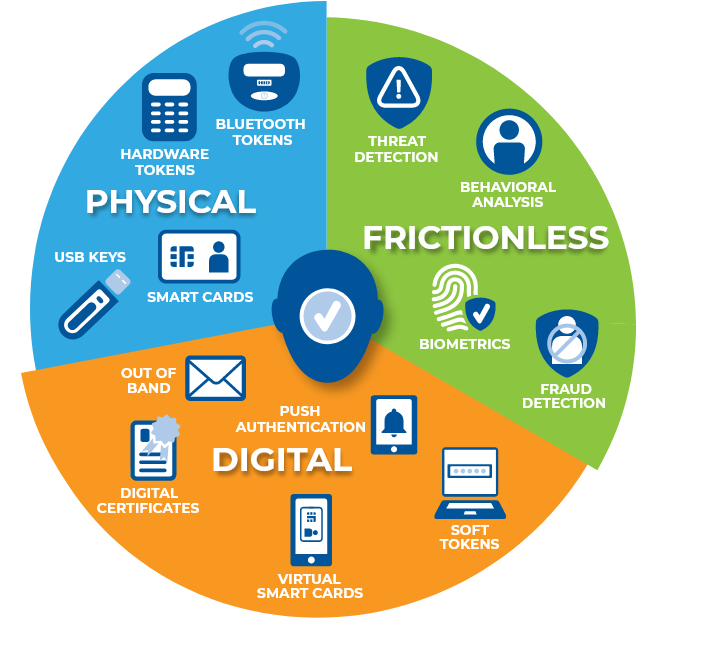 Multi-Factor Authentication
 Today's ever-changing threat landscape requires a layered security approach that offers 360° protection of networks, systems, applications and data. Because users need varying levels of access, it's no longer possible to rely on authentication solutions based on a single factor— even two-factor (2FA) is increasingly prone to security challenges.
By implementing a flexible and layered Zero Trust security approach, we help organizations move beyond single factor and 2FA to:
Secure all networks, systems, devices and applications — on-prem, hybrid or in the cloud
Deploy flexible authentication options for varying use cases and identity assurance needs
Ensure frictionless security for all types of users
Set up quickly and scale easily as business needs evolve
Stay ahead of the threat with intelligent, risk-based profiling
Keep track of audit logs and maintain rigorous compliance standards
Implement customized solutions to fit your needs.
Balance User Convenience and Security Needs
 With the broadest selection of authentication options in the industry, our advanced multi-factor solution is capable of building a frictionless user experience that blends convenience and protection. Organizations can meet specific security needs across all workforce and customer identities.